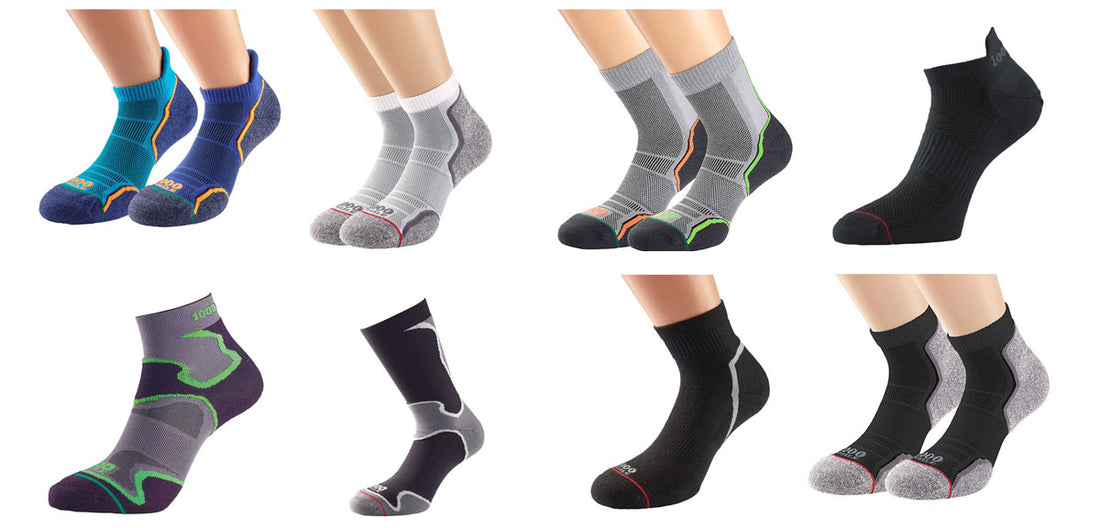 Best Running Socks for Men
Choosing the best running socks for men is important for comfort, performance, and preventing blisters. Sock technology has advanced considerably over the years. Here are several factors to consider when selecting running socks:
Fit and Size
This should be obvious, however, ensure you choose the correct men's running sock size. We base our sizes at 1000 Mile on your shoe size. Ill-fitting socks lead to discomfort and blisters.
Materials
Look for socks made from moisture-wicking materials. For example, synthetic blends (polyester, nylon) or merino wool. These materials help keep your feet dry by moving sweat away from the skin. As a result, this reduces the risk of blisters and discomfort.
Cushioning
Decide on the level of cushioning you prefer:
Light Cushioning: These socks provide a streamlined feel and therefore are suitable for shorter runs and racing.
Medium Cushioning: Ideal for most runners, offering a balance of comfort and support for medium-distance runs.
Heavy Cushioning: Best for longer runs or runners who prefer extra padding and shock absorption. In addition, they are popular for trail running, especially in cold weather.
Men's running sock length
Running socks come in various heights, including no-show, ankle, crew, and calf-length. The 1000 Mile range comes in the following:
Socklet running socks for men
The socklet size or 'no-show' is the shortest because it is cut low below the ankle. As a result, this makes them very popular with runners.
Anklet running socks for men
Also known as ankle socks, these cover the ankle but are still very lightweight. Again, ideal for running shoes and trainers.
Crew-length running socks for men
Crew-length socks are higher, covering more of your lower leg. However, they are not as long as calf-length running socks.
Men's running socks features
Consider the following features when choosing running socks for men:
Seamless Toes
Look for socks with flat or seamless toes to minimize friction and reduce the risk of blisters.
Arch Support
Consider socks with built-in arch support if you have high arches or require extra support for your feet.
Ventilation
Some running socks feature mesh or ventilation zones to enhance breathability and airflow, keeping your feet cooler during runs.
Anti-Odour Technology
Socks with antimicrobial or odour-fighting properties can help keep your feet fresh, especially during longer runs.
Reinforced Heel and Toe
Socks with reinforced heel and toe areas are more durable and can withstand the wear and tear associated with running.
Brand and Reviews
1000 Mile is a well-known and respected brand of running socks for men. We are trusted by athletes and walkers with a history dating back more than twenty years.
Price
Men's running sock prices vary, however, you get what you pay for. Investing in quality socks can make a significant difference in comfort and performance. Don't be afraid to spend a bit more for a reliable pair.
Need advice?
Remember that running socks are essential to your running gear, and choosing the right pair can make a noticeable difference in your comfort (avoiding blisters) and performance. If you need advice please get in touch with us.