The Ultimate Performance Advanced F3D Cushion Insole is perfect for supinators and those with high arched feet. This is because it provides anti-shock stability and support with maximum cushioning from a full 3mm of shock absorbing material.
We ecommend the Advanced F3D Cushion Insole for under pronating runners and walkers. In particular, those who need help recovering from injury and to mitigate the risk of future injury. Use in neutral or supportive trainers and footwear.
Regular price
Sale price
£25.00 GBP
Unit price
per
Sale
Sold out
Size guide

UK Shoes size:

X-Small: 2 - 4
Medium: 7.5 - 9
Large: 9.5 - 11
X-Large: 11.5 - 14

Trim to fit using scissors if necessary.
Materials

The main body, arch bridge, f3d cushioning and lining are 60% PU, 20% TPU, 13% F3D and 7% Polyester.
Shipping & Returns

Free shipping on all orders of £35 or more. All other orders £5.

We aim to ship all orders placed before 11AM the same day for next day delivery.

If you wish to return an item for any reason please ensure it is unused and in the original packaging.
Care Instructions

Hand wash in cool water and air dry.
Share
View full details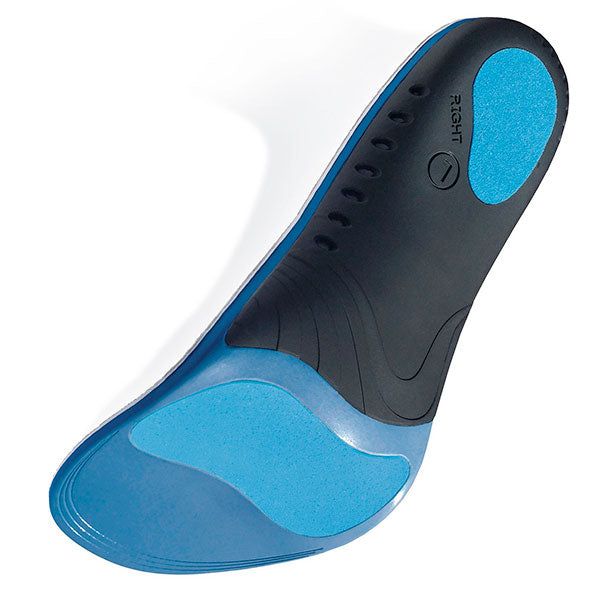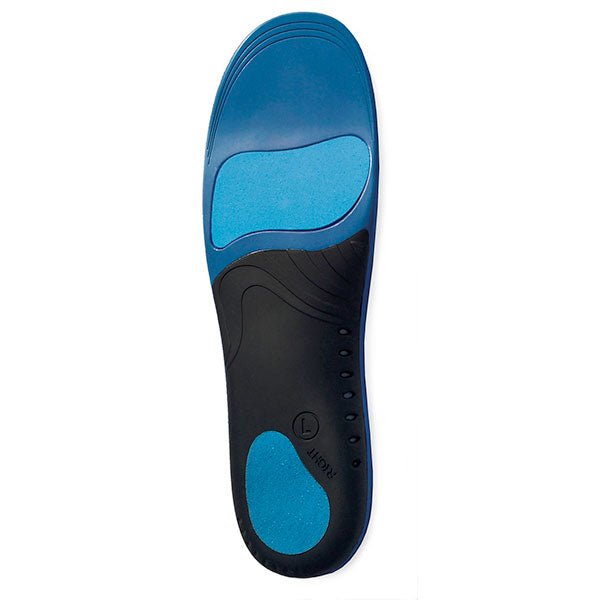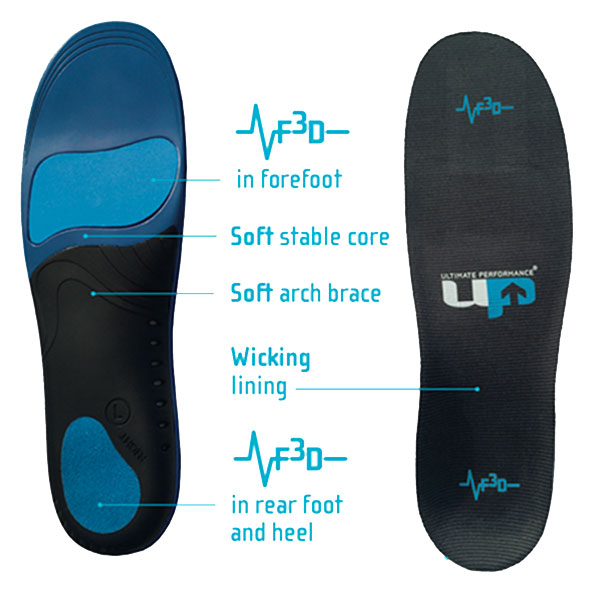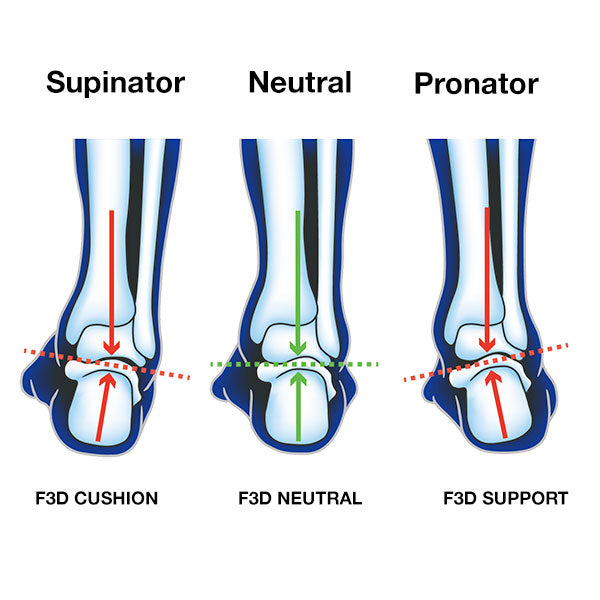 Advanced F3D Cushion Insoles are great for:
- Supinators (under-pronating) runners.
- Neutral runners.
- People wanting to reduce the chance of long-term injuries.
- People wanting more comfort.
- Medium, medium to high, or high arch height.
- Shoes that have a removable insole and/or excess space.
- All ages and body types.
F3D Foam 3mm Damper is an advanced dampening foam insert which dissipates up to 95% of the high frequency shockwaves. As a result, the impact reduces to your feet, knees and hips on every foot strike.
Core & brace
The PU foam core provides comfort and support to the whole foot. A TPU brace provides support in a controlled, comfortable manner to aid gait and reduce injuries. The brace and core are available in a range of densities to cater for varying degrees of pronation.
Memory foam
Full-length memory foam '+' layers in CUSHION+ and SUPPORT+ insoles add superior arch-form fit, comfort and cushioning.
Shock absorption with the Advanced F3D Cushion Insole
The F3D Cusion Insoles has additional shock absorption in the key impact points of the heel and forefoot, mirroring where the body has naturally absorbent fatty pads. This aidsi your natural gait pattern.
Running dynamics
Ultimate Performance Advanced Insoles are designed with the dynamics of running and walking in mind. The full-length insoles are made from a unique mix of materials specifically engineered for running.
Metatarsal padding
Offering both biomechanical support and shock absorption, a cushioned arch support and an anatomical contour known as a 'Met Pad' help spread the load on the forefoot. This helps the body to achieve a more ideal gait whilst damping harmful high-frequency shockwaves. 
This helps to reduce pain not only in your feet, but also in ankles, shins, knees, hips, back and neck. They will also help to aid recovery time and help to reduce the risk of injuries reoccurring.
How to use Advanced F3D Cushion Insoles
These insoles are full length and replace the insoles in neutral or supportive running shoes.
They are also suitable for other sport footwear (golf or tennis shoes, football and rugby boots etc) as long as the current insole is removable and there is enough space to accommodate the Advanced Insole.
It is often advisable to wear them in gradually over the first couple of weeks to avoid muscle fatigue and to allow your body time to adapt to the improved gait and posture provided by the insole. Ideal for running, all sports on hard surfaces, gym, hiking and everyday wear.